Acionyx can take complete responsibility for the life cycle of a software development project or can be involved selectively at various stages. Acionyx follows a phased and well planned approach to software development that ensures that strives to ensure there are minimal road blocks during the development effort.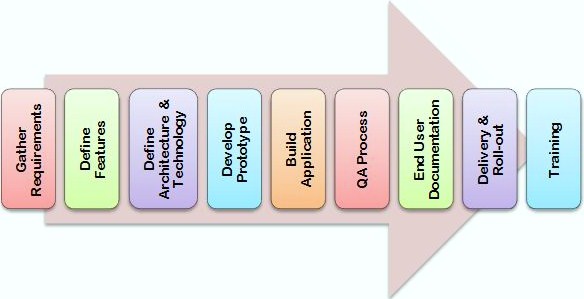 Projects are done on either a fixed bid or milestone basis. Acionyx tends to do projects for clients who have a delivery to make and do not have the skill set or the management horsepower to get the product out. Acionyx stresses that during the lifecycle of a project several regularly scheduled meetings will take place to ensure that the Acionyx project team is developing a product which meets the specifications and expectations of the client.
PROJECT EXECUTION
Acionyx can follow one of the following models for project execution.
Development at Acionyx in Cupertino
All development will be at our office in Cupertino. This model works best when the project needs constant interaction between Acionyx and the client or the project involves technologies that cannot be sent out the United States.
Off-shore development
This model involves having most of the development effort happen at our off-shore development center in Bangalore, India. An Acionyx project manager will be based out of Cupertino to ensure that the client has one point of contact in the United States. This model enables having more resources work on a project due to reduced costs and compresses the development time-frame due to the time difference.
Dual shore development
This would involve the development effort being split between our office in Cupertino and our off-shore development center. An approach such as this is best used when the project involves extensive interaction with the client locally and frequent in-person meetings.
Facilities at Cupertino
Dedicated T1 line
Development environment that includes:

Microsoft Windows 2003
Sun Solaris
Linux
Microsoft development tools and databases
Tools for development under non-Windows environments
Facilities at Off-shore Development Center
Dedicated DSL lines
Access to a large talent pool
Servers running Microsoft Windows 2003 and Linux
Development and testing tools similar to those at Cupertino